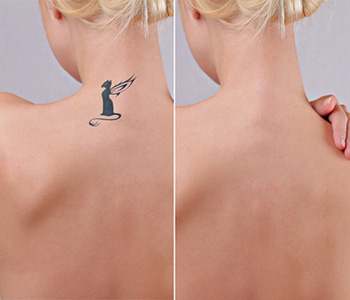 Unwanted ink? Get rid of tattoos with laser removal in Akron, OH
We all make choices in our lives that we regret later on, and tattoos are one of the most common ones. About 20 percent of adults in the United States have tattoos, and up to one-third of people regret at least one of their tattoos. Fortunately, with the latest laser tattoo removal technologies, that unwanted ink can become a thing of the past. At Allied Dermatology and Skin Surgery, members of the Akron, OH community and surrounding areas can say goodbye to their unwanted tattoos safely and effectively.
How laser tattoo removal works
Tattoo ink is comprised of colors that are derived of heavy metal compounds that are too large for the body to naturally eliminate, which is how tattoos permanently stay within your skin. With laser tattoo removal, specific wavelengths of light are emitted in ultra-fast bursts to heat up the ink pigments and shatter them into tiny particles due to thermal expansion. These ultra-small particles are small enough that your body identifies them as "intruders," absorbs them, and flushes them out through natural elimination processes.
Targeted laser technology for different ink colors
Different colors of ink respond to different wavelengths of light, so it is important to work with a qualified and skilled dermatological professional to achieve the best results. At Allied Dermatology and Skin Surgery, we use the Fotona QX MAX Q-switched laser, which can be adjusted to several different wavelengths to target specific colors in your tattoo.
Dark colors respond best to 1064 nm Nd:YAG
Green responds best to 650 nm dye
Sky blue responds best to 585 nm dye
Lighter shades and colors such as purple, red, orange, and tan respond best to 532 nm KTP
Call our office for more information Call us at 1-866-337-6631 or Schedule an Appointment
It is important to note that light blue and colors that are similar to your skin tone don't respond as well to laser removal, and may require more treatment sessions.
What to expect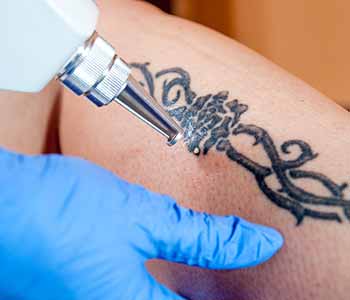 One of the first things people ask about laser tattoo removal is, "Does it hurt?" Everyone's pain tolerance is different so it is difficult to answer this question for everyone, but many patients have described the sensation as being similar to what it felt like to get the tattoo in the first place, but less painful. No anesthesia is typically necessary, but we can use a numbing agent if you have particularly sensitive skin or are concerned about discomfort.
Each treatment session lasts only about 10 minutes, though larger tattoos may take more time. After adjusting the laser to the correct settings for your specific tattoo, we will pass it slowly over the tattoo several times to target the unwanted ink.
Because the laser light is targeted to specific ink color wavelengths, your surrounding skin that does not have any ink in it is not injured during the treatment. In the inked areas of your skin that were treated, you may experience some side effects such as blistering, redness, scabbing, swelling, itching, or some minor bleeding, but these typically resolve after a few days. During the healing period, over-the-counter pain relievers and icing the area can help relieve any discomfort. To prevent damage to your skin, you should avoid exposing the treated area to the sun or shaving it until it is healed. We may also recommend that you put antibiotic ointment on the treated area, along with a bandage to protect it.
For the best results, most patients need multiple sessions that are spaced approximately three to eight weeks apart, with each treatment providing noticeable results and fading of the ink. We will consult with you to determine the right number of treatments for your individual needs.
Say goodbye to unwanted ink
If you are tired of covering up that unwanted tattoo, we encourage you to call Allied Dermatology and Skin Surgery today to learn more about laser tattoo removal. We will conduct a thorough evaluation to determine the best type of laser for your specific tattoo colors and to give you an estimate on the number of laser removal sessions you may need to fully eliminate the ink. We have locations in Akron/Fairlawn, Mayfield Heights (Landerbrook), and Mentor for your convenience so it is easy to get to your appointments from work or home. Call us at 1-866-337-6631 today and say goodbye to that unwanted ink!