Microneedling Scar Revision in Akron, Ohio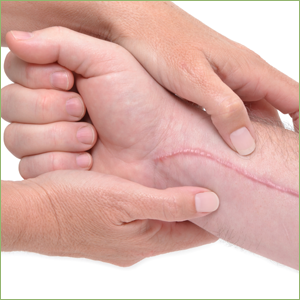 A scar is a mark left after a wound has healed. Unfortunately, physical scars often trigger emotional ones – appearance concerns or reminders of events you'd rather forget. The team of professionals at Allied Dermatology and Skin Surgery provide effective scar revision (including a microneedling treatment) to help Akron/Cleveland area patients enjoy the confidence of smoother complexions.
Anatomy of a scar
When skin is injured, a biological process is triggered for healing. The body knits the wound closed with a meshwork of fibrous collagen proteins. Collagen in normal skin tissue has a random basket weave pattern. Collagen in a scar forms a raised line or a shiny smooth surface, or pulls skin into depressions. Scars may be red or white.
Effective treatment options
Our doctors address acne, traumatic, and surgical scars. Treatment options to resurface scars and reduce discoloration include:
Chemical peels – solutions applied to skin to remove surface layers. This deep exfoliation encourages skin regeneration. Peels are appropriate for mild scars.
Microneedling is a technique that breaks up scar tissue and induces fresh collagen production. The device penetrates skin with hair-fine needles, stimulating natural healing processes. Microneedling is ideal for acne scarring.
Fractionated laser treatment with the Sciton Profractional ablative laser and Fraxel Re:Store non-ablative laser. This device breaks a beam of laser light into a multitude pinpoints, creating microcolumns in skin. This resurfacing action initiates the body's wound healing response without harming surrounding tissue, for rapid healing. Surgical, burn, and trauma scars respond well to laser therapy.
Are you ready to stop hiding your scars under heavy makeup or concealing clothing?
Scars can also be improved with dermal fillers, steroid injections and pulse dye lasers.