ROSACEA? SEE AN AKRON OHIO DERMATOLOGIST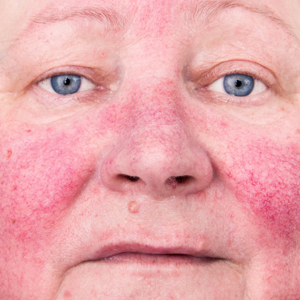 More than 14 million Americans suffer from the skin condition that causes facial redness and other symptoms on the nose, cheeks, chin, forehead, and eyes. Patients in Akron and Cleveland trust the experienced team of providers at Allied Dermatology and Skin Surgery for accurate diagnosis and effective treatment of rosacea symptoms.
Identifying rosacea
Rosacea is not contagious, but it is chronic. It usually appears after age 30, with periodic flare-ups triggered by:
Alcohol consumption.
Drinking hot beverages.
Exercise.
Hot showers or baths.
Indoor heat.
Skin care products.
Spicy foods.
Stress.
Sun exposure.
Weather extremes – hot, cold, wind, and humidity.
Symptoms on the face, neck, chest, ears, and scalp present as:
Acne-like bumps and pimples.
Flushing.
Inflammation.
Itching, stinging, or burning sensation.
Persistent facial redness.
Raised red patches.
Rough, dry skin.
Visible blood vessels.
Ocular rosacea affects the eyes, causing burning, itching, and watering, with the potential for corneal damage and vision loss. Men may get rhinophyma, a rosacea complication that results in excess, thickened, red skin on the nose.
Relief from rosacea
Our providers take as much time as necessary to evaluate your symptoms and triggers. Then we design a customized treatment plan. It includes a gentle daily skin care regimen to avoid irritation, and high quality sunscreen for UVA and UVB protection. Oral antibiotics and topical medications alleviate symptoms during breakouts.
In severe cases, intense pulsed light (IPL) treatments improve chronic symptoms. Vascular laser therapy may be needed to eliminate blood vessels, and excess tissue on the nose caused by rosacea.
Your lifestyle, skin, and schedule is utterly unique. Shouldn't skin care be individualized to your specific needs?
That's the level of personalized attention for rosacea and other medical and cosmetic concerns you can count on at Allied Dermatology and Skin Surgery.
Related Article