Laser Hair Removal (Cost-Effective from Akron to Mayfield Heights)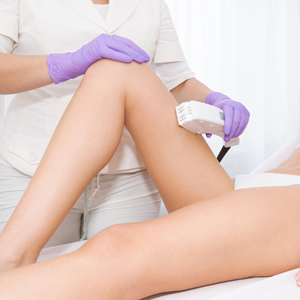 Seventy-five percent of men shave their faces daily, and the average woman spends about $10,000 in her life on shaving-related products. Laser hair removal is a time-saving, cost-effective alternative for silky skin. The experienced professionals at Allied Dermatology and Skin Surgery provide this service in the Akron/Cleveland area, with equipment for all skin types.
The basics
A laser focuses a specific wavelength of light. For hair removal, energy from pulses of light is absorbed by pigment in hair follicles. This heats and destroys follicles, without harm to the skin. Hair becomes thinner after the first treatment. Only hairs in the anagen (active growth) stage respond to the laser, so several monthly sessions are necessary for full clearance. Treated follicles do not grow back, but your body continues to produce a few new ones. Periodic touch-up appointment help to maintain a smooth, well-groomed look.
More about treatment
With LightSheer Duet diode, Cynosure Elite alexandrite and Cynosure Elite, Nd:YAG lasers, most skin/hair color combinations can be treated safely and effectively.
Laser hair removal may be performed on any part of the body including:
Face
Neck
Chest
Arms
Legs
Even toes!
You can shave the treatment area up to 2 days prior to your appointment. However, please do not wax for at least 6 weeks before the procedure. Hair follicles must be present for laser removal. There is no hair to target after waxing.
We take extra precautions to ensure your comfort, and treatment is generally well tolerated. There is essentially no downtime, but skin may look and feel like a mild sunburn for a few days. Sunscreen is a must to avoid temporary changes in skin color.
If you are ready to free yourself from the daily drudgery of shaving,
Related Articles