Psoriasis – Clearer Skin Starts with Treatment
AKRON – MAYFIELD HEIGHTS – MENTOR, Ohio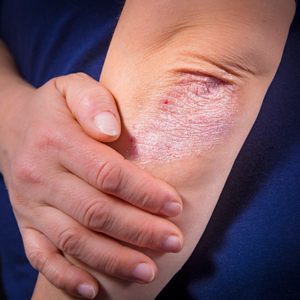 An estimated 7.5 million Americans have psoriasis, and about 40 percent of them experience related joint problems. Psoriasis is also linked to increased risk of heart disease, inflammatory bowel disease, diabetes, and other serious health issues. Effective treatment is vital for comfort and skin wellness. Patients throughout the Akron and Cleveland area trust the dermatologists and the entire team at Allied Dermatology and Skin Surgery for clearer skin, with effective psoriasis treatment.
Too much of a good thing
Normal skin cells live about 28 days and are then shed at the top layer. For those with psoriasis, an irregularity in the immune system causes skin cells to mature in three to six days. The body cannot shed them so rapidly, so they build up.
Plaque psoriasis is the most common type, with raised red patches covered by silvery-white flakes. It usually appears on the trunk, elbows, and knees, but can develop anywhere. This chronic condition often first emerges between ages 15 and 35.
Minimizing symptoms
Our clinicians begin with a careful evaluation to rule out other possible issues, and to assess severity of flare-ups. Treatment begins with identification of triggers such as:
Stress.
Allergy to medication.
Diet.
Weather.
Injury.
Then we design a customized treatment protocol which may include:
Lifestyle adjustments.
Over the counter preparations to lift scales, moisturize, and soothe itchy skin.
Prescription topical medications to slow cell growth, flatten lesions, remove scales, and reduce inflammation.
Light therapy in a phototherapy booth, for carefully-controlled exposure to ultraviolet light.
Xtrac laser therapy. This treatment targets problem areas with a high-intensity beam of light. Most patients see marked improvement in four to 10 sessions.
Oral medications including biologics, which suppress the immune system.