Mohs Surgery Step by Step Process to Eliminate Skin Cancers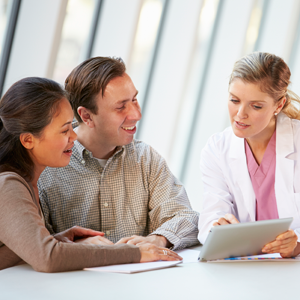 Here is a step by step explanation of the Mohs surgery process, as performed by the doctors at Allied Dermatology and Skin Surgery in Akron, Mayfield Heights, and Mentor.
Precise progressive treatment
The surgeon begins with a careful examination of the visible portion of the lesion. The cancer will recur if roots that extend deeper are not removed as well.
The treatment area is numbed with local anesthesia.
The visible part of the tumor is carefully excised.
Next, a deeper layer of skin is removed and divided into sections. Technicians assist the surgeon in color-coding each segment with special dyes. Reference marks, showing the source of each section, are made on the skin. This information is used to create a map of the surgical site.
In our on-site laboratory, the surgeon examines the edges and undersurface of each tissue sample using high-powered magnification.
If microscopic inspection reveals remaining cancer cells, their location is marked on the map.
Another, deeper layer of skin is removed from the exact area where the cancer cells originated.
Steps 5 and 6 are repeated until there is no evidence of cancer at the surgical site.
If necessary, the surgeon then discusses reconstruction options. Cosmetic surgery is usually performed immediately.
The patient is given post-operative attention, and instructions for home care. Recovery and healing is usually prompt and uneventful.
Mohs surgery is the most precise technique for removing only tissue that contains cancerous cells. With maximum healthy tissue left unharmed and intact, minimal scarring occurs.
Mohs surgery is the primary focus for Dr. Moosally and Dr. Woodhouse at Allied Dermatology and Skin Surgery.
They will be happy to explain the step by step process and the amazingly high cure rate in more detail.