Dermatologists for Rashes – Dermatologists in Ohio
Akron – Mayfield Heights – Mentor Ohio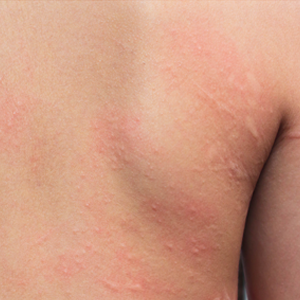 Rash is a generic term that refers to symptoms – redness, blisters, and itching – associated with a variety of skin conditions. A visit to Allied Dermatology and Skin Surgery in Akron, Mayfield Heights, and Mentor is the first step for identification and treatment of rashes.
Accurate diagnosis
Some rashes resolve on their own, but there is always risk of secondary infection or scarring from scratching. Using the wrong techniques or medications can make a rash worse. In addition, a rash can be a symptom of a more serious health problem. Our experienced clinicians begin with a careful visual examination and testing (as necessary) to determine the main reason.
Common rashes:
Contact dermatitis – A skin reaction triggered by an allergen such as cosmetics, fragrances, soap, jewelry, or poison ivy.
Atopic dermatitis – A form of eczema characterized by a raised, red rash with tiny blisters and itching.
Bacterial infection – The red sores of impetigo around the mouth are contagious.
Fungal infections – The itchy red rings of ringworm (which is NOT caused by a parasite), and yeast infections are examples.
Viral infections – Shingles are a painful, blistering rash related to the chickenpox virus.
Chronic skin conditions – Rashes may be associated with psoriasis (an immune system disorder) or seborrheic dermatitis on the scalp or face.
Effective treatment
There is a wide range of treatment choices for rashes, depending on the cause and severity of symptoms. Our clinicians begin with conservative lifestyle adjustments and topical medications, anti-itch creams, moisturizers, and antihistamines to soothe symptoms. Advanced laser and light therapies, and oral medications may be appropriate, for some skin diseases.
If you have a rash, even a minor one, that does not improve within two weeks, it is important to get a qualified diagnosis.