Warts – Treatment by Our Dermatologists (Akron and Throughout Northeast Ohio)
akron – mayfield heights – mentor Ohio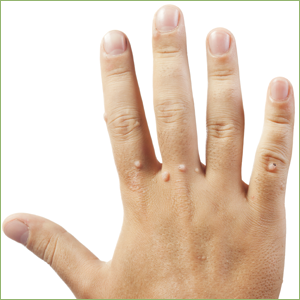 Warts are a common skin condition. Caused by HPV (the human papilloma virus), they are generally harmless. However, warts can spread from person to person, and one part of the body to another. There are situations when medical treatment for warts is advantageous or necessary. The highly-skilled physician group at Allied Dermatology and Skin Surgery, with offices in Akron, Mayfield Heights, and Mentor, are experienced in treating warts.
Who gets warts and why?
Warts occur when a break in the skin allows the virus to enter. They can appear anywhere on the body, but are often found on the fingers, toes, and knees. They vary in appearance, from flat and smooth to dome-shaped, cauliflower-like, or filiform – long, narrow stalks. Size ranges from pinhead to 10 mm (roughly a third of an inch) in diameter. Warts may occur singly, or in clusters.
Anyone can get warts. Children and teens are susceptible because they bite cuticles, and get cuts, scrapes, and bug bites. Warts spread from physical contact between kids and in locker room scenarios. Men get warts more often than women, presumably because they injure their hands doing yard and garage work.
When professional treatment is warranted
Appearance issue – They cause embarrassment.
Matter of comfort – Clothing may irritate warts. Filiform warts can itch or bleed. Plantar warts on the feet are painful. Periungual and subungual warts hamper healthy fingernail or toenail growth.
Social responsibility – Genital warts are sexually transmitted and quite contagious. You should avoid intimate contact until the condition is treated by a dermatologist.
After thorough examination, our doctors recommend the most appropriate treatment with minimal risk of scarring. Options include laser surgery, cryotherapy, electrosurgery, and topical medications.
Schedule an appointment at Allied Dermatology and Skin Surgery for evaluation of warts and more information on treatment.
Call us at 1-866-337-6631 or Schedule an Appointment