SCLEROTHERAPY: REMOVAL OF SPIDER VEINS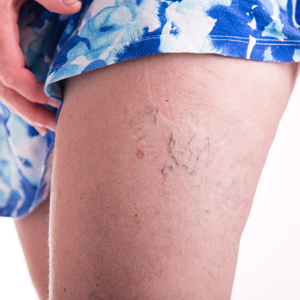 Thousands of women and men in the Akron/Cleveland area are troubled by the appearance of spider and lesser varicose leg veins. This condition is typically not a health threat, but it may keep you from wearing shorts or skirts, and enjoying activities that show your legs. Sclerotherapy at Allied Dermatology and Skin Surgery is a safe, effective solution.
Understanding sclerotherapy
Sclerotherapy has been used in the treatment of spider veins for more than a century and a half. However, medications and techniques continue to evolve, for comfortable treatment and excellent results.
This is a brief outpatient treatment (an hour or less depending on how many veins are addressed) with little or no downtime.
A very fine needle is used to inject a sclerosing solution, Asclera, directly into a visible vein.
Sclerosant irritates the lining of the vein, causing it to collapse or close.
Blood flow is naturally re-routed to healthy veins.
The treated vein is harmlessly absorbed by the body.
What to expect
Some patients experience mild discomfort or cramping immediately after injections, often described as feeling like small bee stings. However, the effort is to provide the most comfortable experience possible. You may drive and resume normal activities right after your appointment. Walking is encouraged to prevent formation of blood clots. Wearing compression hosiery for about two weeks after treatment helps to support veins as they heal.
It is important to avoid anti-inflammatory medications, aspirin, or ibuprofen for at least 48 hours, as well as hot baths and exposure to sunlight.
Allied Dermatology and Skin Surgery is a team of doctors and support staff, all with specialized training in dermatology. Many of our doctors are Board-Certified, and all are experienced in medical and cosmetic dermatology services.
Before you consider sclerotherapy from a general practitioner, consider the benefits of highly-qualified care.