Vein laser treatments for face and legs (Varicose Veins)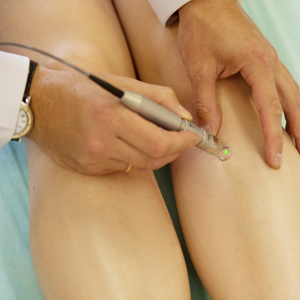 Visible blood vessels on the face and legs spoil the appearance of your smooth, attractive skin tone. The team of professionals at Allied Dermatology and Skin Surgery bring advanced vein treatments to patients in the Akron and Cleveland area.
Pulsed dye lasers
Our laser suite includes Vbeam and Vbeam Perfecta lasers from Candela. This pulsed dye technology delivers an intense burst of light in the yellow spectrum. It selectively targets pigment in blood vessels, safely eliminating them. This is the gold standard in vein laser treatment for effectiveness and low risk of side effects.
When is PDL appropriate?
Laser vein treatments are a good choice for:
Visible veins on the face.
Dilated blood vessels.
Broken capillaries.
Spider hemangiomas.
Telangiectasia.
Rosacea and facial redness.
Superficial leg veins.
Vascular birthmarks like Port Wine Stains and Hemangiomas
This can be a secondary step to clean up spider veins on legs after a "feeder" varicose vein has been treated with surgery or another method. PDL may also be used in conjunction with sclerotherapy.
What to expect
Skin is cleansed, and eye protection is provided if you are receiving facial treatment. Then, our clinician uses a hand piece to precisely treat problem areas.
PDL is non-invasive. The device incorporates a cooling mechanism for comfortable treatment. You may feel warmth or slight stinging as pulses of laser energy enter the skin, but anesthetic is not necessary unless you have unusually sensitive skin.
There is little downtime – you may return to normal activities right after your appointment. Some patients experience mild redness, but it resolves quickly and may easily be camouflaged with makeup. Several treatment sessions, spaced a month or more apart, may be necessary for full clearance of veins.
We also offer Sciton BBL (Broad Band Light) and 1064 Nd:YAG laser to treat a broader range of vascular conditions.
Trust your complexion to the experts with vein laser treatments at Allied Dermatology and Skin Surgery in Akron, Mentor, and Mayfield Heights.