Vitiligo and Psoriasis Akron: Minimize Embarrassment
Akron – Mayfield Heights – Mentor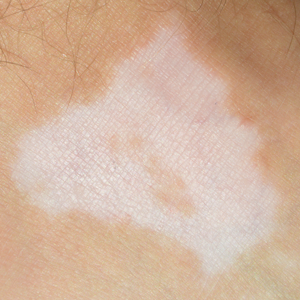 While some skin conditions such as vitiligo and psoriasis are not serious health threats, they can attract attention for the wrong reasons. The team of highly-qualified providers at Allied Dermatology and Skin Surgery bring effective treatment options to Akron/Cleveland area residents.
Vitiligo
Vitiligo is characterized by loss of skin color in patches. It can affect any area of the body, including hair, eyes, and inside the mouth. It occurs when cells that produce melanin stop functioning. The condition is not dangerous or contagious, but it can be a self-confidence issue, especially in darker-skinned individuals. Vitiligo may be hereditary, or triggered by stress, sunburn, or chemical exposure.
Psoriasis
Psoriasis is a chronic immune system disorder that alters the life cycle of skin cells. They build up rapidly at the surface, forming raised red patches covered with thick, silvery white scales. Psoriasis is unsightly, and may be itchy and uncomfortable. The goal of treatment is to slow skin cell turnover, minimize flare-ups, and improve comfort and appearance.
What do they have in common?
These two dermatological conditions are dissimilar, but they have something in common – they both respond to light and laser therapies.
Light therapy – We utilize a phototherapy booth to safely administer narrow band UVB light. We usually recommend three sessions a week until symptoms are under control. This method works well to clear vitiligo or psoriasis on the face, limbs, and trunk.
Xtrac excimer laser therapy – This specific wavelength of UVB light brings color back to smaller patches of milky skin. Laser energy directed at psoriasis plaques helps to control scaling and inflammation.
Combination treatment – Light and laser therapies may be used alone, or in combination with a photosensitizer (psoralen), topical medications, oral drugs, and lifestyle adjustments.
You don't have to face vitiligo or psoriasis alone.
Call us at 1-866-337-6631 or Schedule an Appointment