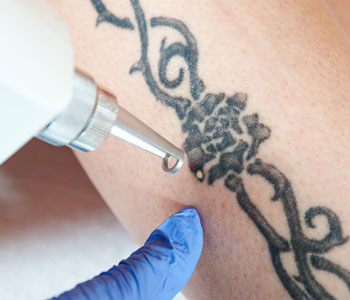 Are tattoo removal procedures effective in Akron, Ohio?
If you have been rethinking a tattoo, you are not alone. For many reasons, individuals who have tattoos often wish they could remove the ink from their skin. For years, once they were inked, tattoos were a nearly permanent part of a person's appearance, as removing them was expensive, painful, and difficult. However, the physicians at Allied Dermatology and Skin Surgery in Akron, Ohio, has helped countless patients erase their tattoo and improve their confidence with effective tattoo removal.
Effective laser tattoo removal
The Allied Dermatology and Skin Surgery team uses the Fotona QX MAX Q switched laser to remove unwanted pigment from the skin. This device can be customized, making it more effective on multiple colors of ink and it can target the exact area of the tattoo, which leaves the rest of the skin unharmed. The laser works by heating the pigment of the ink, which causes it to break up and dissolve.
The process of removing a tattoo is not immediate. It will take several appointments over several weeks or even months to completely dissolve the tattoo and remove it from the skin. These sessions are typically not painful, but can cause some discomfort. Patients often report that it feels like being snapped by a rubber band.
Preparing for your tattoo removal appointment
If you've decided that a tattoo is no longer welcome on your body, there are several things you should do to prepare for your first appointment:
Stop using self-tanning products, tanning beds, and avoid exposure to the sun for at least two weeks before the appointment. If you can't avoid being outside, use sunscreen to protect your skin.
If you wear jewelry near or on the tattooed area, remove it before the appointment. You should also be prepared to keep the jewelry off following the appointment, as it could irritate the skin.
Consider using a topical numbing cream to help reduce discomfort.
For more information about safely and effectively removing a tattoo from your body, call Allied Dermatology and Skin Surgery at 1-866-337-6631 today.