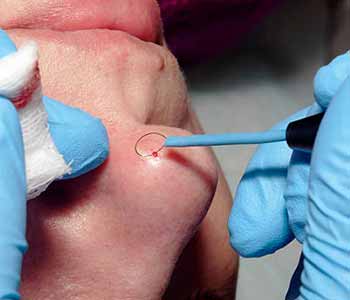 Mohs Surgery for Skin Cancer
When patients in Ohio have been diagnosed with skin cancer on the face, they are often concerned about the effects removal may have. They may be worried about excision of the skin cancer which could leave them deformed. They may worry about the scarring it may leave behind. However, the team of Allied Dermatology and Skin Surgery often recommends patients consider the advantages of Mohs micrographic surgery for removal of skin cancer in highly visible areas of the face and body.
What is Mohs micrographic surgery?
Mohs micrographic surgery is a specialized technique used for skin cancer removal. While it is not a cure for skin cancer, it has an extremely high success rate in treating recurring cancers that may continue to develop. The procedure is done in the office as an outpatient surgery without the need to go to a hospital. The patient is properly numbed with only local anesthetic and the area of cancer is extracted layer by layer to reach even the deepest of skin cancers. Additionally, this process allows the dermatologist to avoid removing any excess healthy skin surrounding the area—leaving less of a scar or deformation behind. This method of skin cancer removal is extremely successful for many of our patients who have been diagnosed with skin cancer on visible areas of the body.
What are the benefits of Mohs micrographic surgery?
This procedure is:
Effective
Thorough
Highly successful
Less likely to leave large scars or deformation on the facial area
Recommended by many experienced professionals
Learn more about Mohs micrographic surgery today!
Contact the team of Allied Dermatology and Skin Surgery today to discuss the benefits of using Mohs micrographic surgery for the treatment of skin cancer. It's as close to a cure as you can get! Call today to schedule an appointment at any one of our practices located in Akron, Mayfield, and Mentor, Ohio at 1-866-337-6631. We encourage new and existing patients to visit us to learn about the prevention, diagnosis, and treatment of skin cancers.