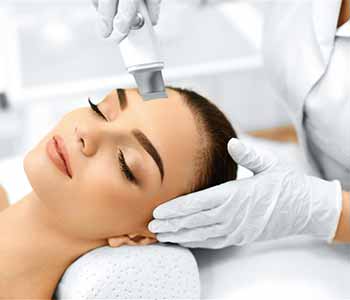 Facial Skin Peel Treatment for Akron Patients
At Allied Dermatology and Skin Surgery, we know how important it is for patients to look their best. When individuals come into our practice in Ohio and ask about treatments for a greater complexion, we often recommend the facial skin peel.
What is a facial skin peel?
A facial skin peel, sometimes referred to as a chemical peel, is a special mask that is applied to the skin in the office and left on for a very short period of time—often just a minute or two. Then, it is removed and the skin is cleansed. These peels are made with a combination of special yet safe ingredients that are used in stimulating the skin's natural healing process. There are varying levels of peels available at Allied Dermatology and Skin Surgery:
Mild
A mild chemical peel is often done right in the practice during a patient's lunch hour. Patients rest in the treatment chair and the skin is cleansed, the peeling agents are applied, and then removed. Patients may notice some redness for the remainder of the day that can be covered with cosmetics. Redness may continue and mild peeling may occur, but no downtime is needed.
Aggressive
Aggressive peels are more effective at providing amazing results—but they do require social downtime due to the peeling and redness that occurs. However, patients require less treatments with more aggressive peels than with mild peels to achieve the same results.
Schedule an appointment today!
Patients in the areas of Akron, Mayfield, and Mentor, Ohio seeking quality dermatological care are welcome to visit the team at Allied Dermatology and Skin Surgery. Our staff, which includes CNPs, RNs, and dermatologists, is dedicated to helping others look and feel great – whether they are dealing with cosmetic concerns or medical conditions. We welcome new patients to contact our centralized number at 1-866-337-6631 to schedule an appointment at any one of our three conveniently located practices. Allied Dermatology and Skin Surgery is on your side!