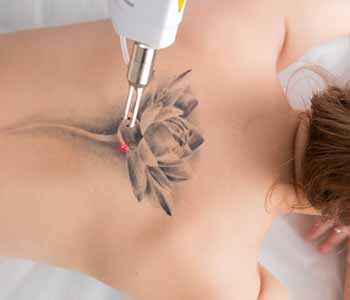 Mayfield Heights patients ask, "Does laser tattoo removal hurt?"
Deciding to get a tattoo is a personal decision. When you choose to get a tattoo, the particular design or intended meaning may be sentimental. However, sentiments change. With that comes tattoo regret. People who regret their tattoos need options other than hiding or camouflaging the tattoo. With offices in Mayfield Heights, Akron, and Mentor, OH, the team at Allied Dermatology and Skin Surgery offer laser tattoo removal to help patients effectively eliminate unwanted tattoos.
How it works
Tattoos do not just sit on the surface of the skin like a press-on you may have used as a child. Tattoo ink goes deep into the skin to provide a lasting appearance. State-of-the-art laser technology is required to remove the ink from the skin. Laser tattoo removal breaks apart targeted ink particles so your body can naturally eliminate an unwanted tattoo. At Allied Dermatology and Skin Surgery, we use the Fotona QX Max Q-switched laser. This high energy, single pulse system uses patented technology and is one of the most advanced lasers available. The single pulse system emits ultra-short fast pulses of light. The energy heats pigments causing them to break apart. This laser treats larger spot sizes to clear treatment areas efficiently and effectively. Less treatment time is needed. The single pulse and larger spot size also mean fewer unwanted side effects. Skin that does not have tattoo ink is not harmed. Call our office for more information Call us at 1-866-337-6631 or Schedule an Appointment
Patient expectations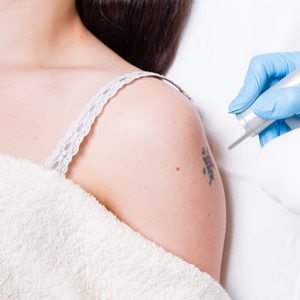 Patients who experience tattoo regret often explore their options and ask questions such as "is tattoo removal effective" or "does laser tattoo removal hurt?" During your consultation with one of our professional team members, we will address your questions and concerns.
Laser tattoo removal permanently gets rid of the tattoo ink. Once it is gone, it cannot come back. A typical treatment for an average tattoo takes about 10 minutes. Larger tattoos require more time. A series of treatments scheduled 3 weeks apart is needed to achieve optimal results. Black and red inks respond quickly to the treatment. Blues and yellows usually require more treatments. You will notice improvement following each session. The number of sessions needed varies from patient to patient and depends upon factors such as:
Ink colors
Tattoo size
Location on the body
Lifestyle habits
If you have concerns about pain or sensitivity, keep in mind that many patients have compared the feeling of tattoo removal to the tattooing process. Patients' tolerance levels vary but anesthesia is not required for treatments. If you have sensitive skin or experience pain with the procedure, relief in the form of numbing agents may be available to make your laser tattoo removal treatment more comfortable.
Following your laser tattoo removal treatment, you will be given post care instructions. Downtime is not needed. If you have any lingering discomfort, an ice pack may help soothe your skin. Antibiotic ointment and a bandage may help protect the treatment site. Any side effects are generally mild and may include swelling, pinpoint bleeding, or possible blistering. If you do experience redness or blisters, treat the area as a mild sunburn. Do not pop the blisters. Avoid shaving and sun exposure until the area has fully healed to avoid damaging the skin.
Recommendations for successful treatments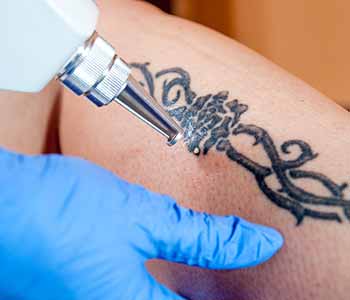 With any laser procedure, there are points to remember to improve your treatment experience and results.
Avoid all tanning. This includes products, tanning beds, and sun exposure throughout your series of treatments. Tanning increases the melanin or pigment in your skin. Since lasers break down pigment, if your skin is darker than normal, the laser may have trouble differentiating the appropriate colors to break down. For safety reasons, the laser settings may need to be lowered to avoid negative reactions. This also results in a less aggressive and less effective treatment. Additional treatments may be needed.
Numbing agents may be available. Any discomfort felt during tattoo removal has been compared to the tattooing process. You withstood the discomfort of getting a tattoo. For patients who are concerned about pain, a numbing cream or local anesthetic may be available to maintain patient comfort.
Tattoos do not have to be permanent. If you experience tattoo regret and live near Mayfield Heights, Mentor, or Akron, contact the team at Allied Dermatology and Skin Surgery to schedule your appointment today.
Or, contact us about other skin concerns and treatments from our dermatologists who help patients near Akron, Mayfield Heights and Mentor, Ohio. Call 1-866-337-6631.