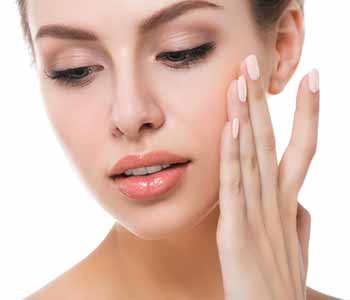 SKIN TREATMENT IN AKRON: BROADBAND LIGHT (BBL)
Are you interested in lessening the redness in your skin, or helping age spots and sun spots fade away? If so, BroadBand Light (BBL) therapy may benefit you. With proper use of BBL, you'll not only have visible changes to your skin but also reap the benefits of documented changes that occur underneath the skin. According to a study performed by the Stanford University Department of Dermatology, there is evidence that BBL slows the skin's aging process. We, at Allied Dermatology and Skin Surgery, are excited to bring the benefits of BroadBand Light treatment to residents of the Akron area. We want to know the concerns you have about your skin and welcome the opportunity to discuss how BBL might be able to help correct any issues you have.
Noninvasive, yet effective
Unlike other skin altering procedures, BBL is noninvasive. Only the light energy will penetrate your skin. As a noninvasive procedure, the risk of side effects is low. The use of lasers and light for cosmetic procedures has greatly increased over the past two decades. BBL is a type of intense pulsed light (IPL) procedure that is a safe procedure, as it blocks wavelengths below 500 nm, which means harmful ultraviolet radiation is filtered out. This is just one of the distinguishing features of BBL that makes it one of our go-to procedures for clients who want younger, healthier looking skin.
Fast facts
Low-risk procedure
Minimal risk of side effects
Noninvasive, no skin is removed
No downtime
Improvement after each treatment
How it works
Your dermatologist will use a machine that is equipped with advanced cooling features that enable your skin to absorb heat with minimal discomfort. If desired, a numbing cream can be administered, but most clients find it unnecessary. BBL can be performed anywhere on your body, including sun-damaged areas such as your face, chest, hands, and neck.
The light energy delivered in a BBL treatment will gently heat the upper layers of your skin. As the heat is absorbed, new collagen generation is stimulated. This process is what helps to reduce surface discoloration and wrinkles. The result is skin that is more even in tone and texture. Call our office for more information Call us at 1-866-337-6631 or Schedule an Appointment
During your consultation for BBL, our staff of medical professionals will explain the preparation process to ensure you are as comfortable as possible during your treatment. As a rule, we recommend you avoid direct sunlight or tanning beds prior to the treatment. Be sure to let our staff know what medications and supplements you are taking. We will review your current medications and advise you if any are prone to make you more sensitive to light. Our in-depth review of your personal needs and circumstances is what sets us apart as a team of caring professionals who partner with you in the care of your skin.
For optimal results, we'll recommend a treatment plan and outline the number of sessions needed to achieve your goals. It's important to follow through with treatment in order to achieve the best results and to maintain those results over time. Our staff may recommend other treatment options to complement BBL results as part of your personalized treatment plan.
Following each treatment, you may experience mild redness or the sensation of a slight sunburn on the treated areas. In some cases, these symptoms may last a day or two, although it's more common for symptoms to dissipate in a few hours following treatment. Our staff will provide one-on-one guidance regarding a skin care regimen targeted at prolonging your healthy skin, such as regular use of sunscreen.
Experience matters
The technology behind BBL is unique, as is the experience required of dermatologists to ensure optimal results. You can trust the medical staff at Allied Dermatology and Skin Surgery to know the optimal parameters required for your treatment, based primarily on your skin type. Our staff will assess your skin type and recommend the number of sessions needed to achieve effective results for you.
Our doctors are proud to offer Sciton BBL™ to the patients in the Akron community. Sciton BBL™ is touted as the most complete and versatile BroadBand Light system in its class. No need to travel far from home to benefit from this innovative technology. If you want smoother, vibrant, younger looking skin, contact us today and take the first step towards restoring your natural beauty. New clients are always welcome! Our goal is to make each visit a rewarding experience by providing unsurpassed service that exceeds your expectations. Call 1-866-337-6631 to begin your journey toward healthier-looking skin today.