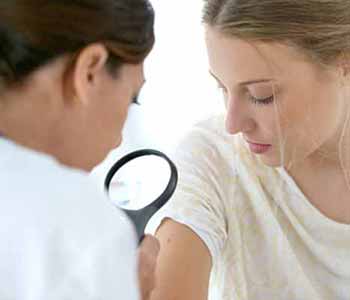 Skin Cancer Doctor: Get Mohs Surgery in Akron and Northeast Ohio
At Allied Dermatology and Skin Surgery, our patients are treated with concern and respect, especially when there are serious issues such as skin cancer. Patients who have had a diagnosis from a skin cancer doctor are often unsure about what treatment avenue to take. The Physicians of Allied Dermatology can educate patients on the different types of treatments that can be used to address cancer, including Mohs micrographic surgery in Akron, Ohio.
Surgical removal
There are two types of surgical removal that may be recommended for patients with a diagnosis of skin cancer, including
Traditional excision
Mohs micrographic surgery
Traditional excision is the removal of the cancerous cells in the area where it has been diagnosed. This is often done on areas of the body that are not highly visible. It can leave behind an area of scarring, which can be unpleasant. For patients who have a diagnosis of skin cancer that is located somewhere that is highly visible, such as the face, our Physicians may recommend Mohs micrographic surgery. Mohs micrographic surgery is a special form of surgical excision that is performed to remove cancerous cells layer by layer to not only ensure that all cancerous cells are removed but also to greatly reduce the scarring and disfigurement that can be left behind with more traditional excision methods. This makes it a highly desirable option for patients who have cancer on the face, hands, or other noticeable areas of the body where disfigurement should be avoided. Call our office for more information Call us at 1-866-337-6631 or Schedule an Appointment
How does Mohs micrographic surgery work?
This surgical treatment requires a doctor to have extensive training and experience to become certified to perform this type of excision. It is a highly specialized treatment that is done at Allied Dermatology and Skin Surgery by our expert team. The Physician will first evaluate the patient and get a proper diagnosis of skin cancer, often with the use of a biopsy. This requires removal of a portion of the area of concern that is sent off to a laboratory for evaluation. Once a diagnosis has been made, patients discuss their treatment options. For highly visible areas of the skin, Mohs micrographic surgery is often recommended. This treatment requires the doctor to remove an area of the skin where the cancer has been found and view it under a microscope to find the edges of the cancerous cells before removing the next layer. By doing this, the doctor can ensure that he is removing all layers of cancer from the patient's skin while leaving healthy tissue surrounding the area intact. This ensures reduced scarring and more effective treatment. The procedure will require stitches when the work is complete, but healing is often speedy with proper aftercare of the surgical area.
Who is a candidate for Mohs micrographic surgery?
Since this is a highly specialized type of treatment, it is not recommended for everyone. The two most appropriate candidates for Mohs micrographic surgery are patients who have skin cancer on the face or other visible areas of the body, or for a patient who is dealing with recurring cancer. This is because Mohs micrographic surgery is often more effective in removing all the cancerous cells than any other method. Some patients who have this procedure may wonder if they should pursue other methods of treatment including radiation or chemotherapy. This can be discussed with the doctor at the time of diagnosis before pursuing any treatment options.
Interested in medical dermatology solutions in Mentor, OH?
Contact Allied Dermatology and Skin Surgery. The Providers at Allied Dermatology and Skin Surgery are here to assist individuals with a wide variety of skin and body concerns, including the diagnosis, treatment, and prevention of skin cancer. Call the Mentor, OH location at 1-866-337-6631 at 9485 Mentor Avenue, Suite #102, or connect with us at either of our other two locations in Mayfield Heights and Akron, OH. We accept new patients and families into our facility for comprehensive care.