Akron Skin Treatments, Dermal Filler to Look Younger
Age is only a number. Who says you must look your age? Whether you have known about your lines and wrinkles or you woke up this morning and suddenly noticed their appearance, you may now be wondering where to find dermal fillers. Facial dermal filler treatments are popular options to make you look younger by restoring volume to areas of the face. With offices in Mayfield Heights, Akron, and Mentor, OH, the team at Allied Dermatology and Skin Surgery offer injectable fillers to help Cleveland area patients achieve the fresh, youthful looks they deserve.
As we age, the building blocks of our skin begin to break down. Skin becomes thinner and drier. Gravity takes effect. This combination leads to volume loss, the formation of lines and wrinkles, and sagging of the skin. Adult men and women benefit from the effects of dermal fillers. Because fillers restore lost volume and fill lines and wrinkles, patients immediately look younger. A youthful appearance is beneficial personally and professionally. Injectable fillers may be used alone or to complement other facial procedures such as Botox, peels, or laser procedures.
Injectable fillers are commonly used for the following reasons:
Treating lines and wrinkles
Plumping the lips
Adding volume to the cheekbones
Filling the area under the eyes to reduce the sunken facial appearance
Call our office for more information Call us at 1-866-337-6631 or Schedule an Appointment
The science behind dermal fillers
If you are considering dermal fillers, you may be wondering how fillers make you look younger. There are several fillers available. Each has a different composition and value in restoring lost volume. Your treatment is tailored to your specific needs. Your history with fillers, your facial needs, and your expectations help determine the appropriate filler to use. Regardless of which filler is selected, it is injected just under the skin immediately plumping the targeted area. By restoring lost volume or filling unwanted lines and wrinkles, patients regain a fresh, youthful appearance. The skin is smooth and soft again.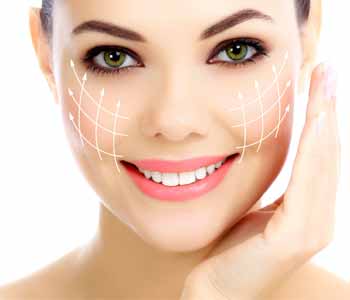 At Allied Dermatology and Skin Surgery, we utilize the following injectable fillers:
Radiesse
Juvéderm Ultra, Ultra Plus, Voluma, and Volbella
Restylane Lyft and Silk
Belotero
Radiesse consists of calcium hydroxylapatite microspheres that have been suspended in an injectable gel. This gives the product a firmer consistency and is often used in areas where the skin is thicker to provide long-lasting results. Calcium is found naturally in the body so there is little chance of an allergic reaction. It is an FDA-approved dermal filler that is utilized to correct moderate to severe lines and wrinkles. Once injected, patients see results instantly as the product fills lines and adds volume for a smoother face. Over time, the calcium microspheres dissolve, but first, they stimulate your own natural collagen production which lengthens the treatment results. Results may last 12-18 months.
Juvéderm, Restylane, and Belotero are FDA-approved hyaluronic acid fillers. Hyaluronic acid is a natural building block of the skin bringing moisture, nutrients, and volume. As we age, the production of hyaluronic acid slows, making the skin lose moisture and fullness resulting in a hollowed or thin appearance. Lines and wrinkles also appear. Hyaluronic acid is used in dermal fillers to fill lines and wrinkles, to contour the face, and to add volume to the lips. These fillers are popular, as they are soft and malleable. They produce natural, long-lasting results.
What to expect
During your appointment, your medical history, experience with cosmetic injectables, areas of need, and anticipated outcomes will be discussed. Our expert injectors understand the lines and contours of the face. They can determine which dermal filler is most appropriate for you. The filler will be injected in a manner that gives you a natural-looking, yet youthful result to keep you looking your best. The injections take just moments as the filler enters beneath the skin adding volume to the treatment area. The effects are immediate. Patients leave the office looking refreshed.
Our team will develop a customized treatment plan to keep you youthful, yet natural. In our experienced hands, you can achieve the look you desire with long-lasting results. Dermal fillers can be combined with other cosmetic injections and facial treatments for complete rejuvenation.
Contact the team at Allied Dermatology and Skin Surgery for your appointment today. Call 1-866-337-6631.